The NAMM show held in Anaheim nearby L.A on 24th JAN. 2019.
NAMM show is one of theworld largest music exhibitions which founded in the year of 2016. The NAMM show held in Anaheim nearby L.AAnaheim Convention Center in JAN.
As China excellent audio devices brand,Alctron has taken in NAMM show to show its outstanding ability.
Show living
During thisshow, Alctron showed its professional ability and better service in audio area
Alctron broughtlots of star products to 2019 NAMM show. Due to product's better functionality, practicability, portability and innovation allof that won appreciate from professor and audience.
Show focus
This time Alctronexhibition has audio amplifier, mic, monitoring headphone and audio accessoriesfour areas. Among them, some new product attracted people's attention. We haveprofessional tech staff introducing professional knowledge about new product toall.
During NAMM show,Alctron headphone amplifier and mic amplifier attracted visitors and made apopularity booth.

Showy products
This show has many luminouspoints, such as MP73V2 mic amplifier, CK6 large diaphragm condenser mic andother new products. After consulting, many clients gave high appreciation toAlctron products.
Micshowing area has more than 30 kinds of mics. Beside TL39、BETA3、CU58, Alctron launched a number of new products as well.
Among them, CX5 condenser mic andclassic CK6 mic won high attention from visitors. Many music lovers made arecord via CX5 which felt the charming of made in China.
▲CX5 and CK6
Headphone showing area showed morethan ten kinds of headphones. Connecting headphone to headphone amplifiershowed its outstanding sound quality.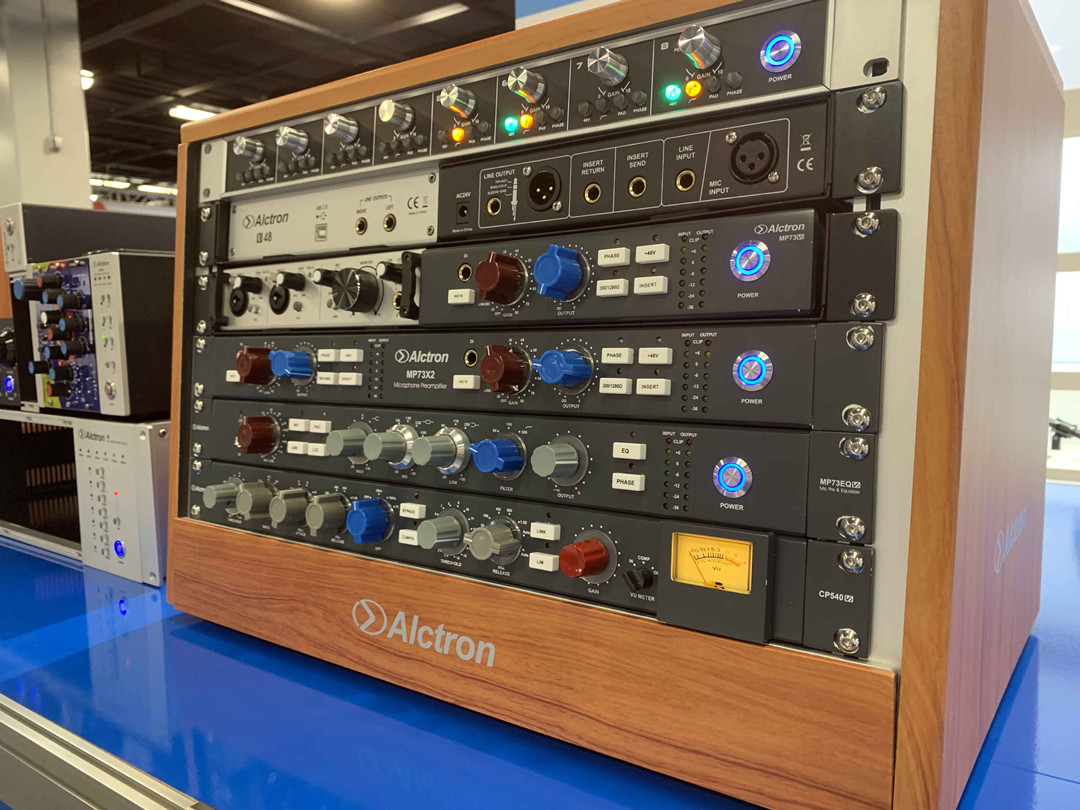 ▲Showy products
During 4 days NAMM show, Alctron's product and tech offer a showing booth. Withgood looking, rich function and powerful performance, Alctron won a lot ofappreciation from visitors.
You can talkedwith our staff directly, we answered your question, introduced each product indetail which founded a relation between us and visitors.
From foundedcompany to own its brand, Alctron takes 16 years. Now we Alctron wins a lotfrom 16 years insisting and testing. We will keep going and make progress stepby step.
Only innovator makes progress; only innovators makes ownpowerful; only innovator wins all the time.
Since Alctronfounded, we still sticks to self innovation strategic policy, controls key techin audio device area and owns lots of National Patent for Invention.
Under the idea of "sale to the world", Alctron strengthentechnological innovation and improve the ability of independent research and development.Together with excellent domestic brands, Alctron is a rising industry star inchina audio.